Smt Bangaramma Sajjan Arts and Commerce College for Women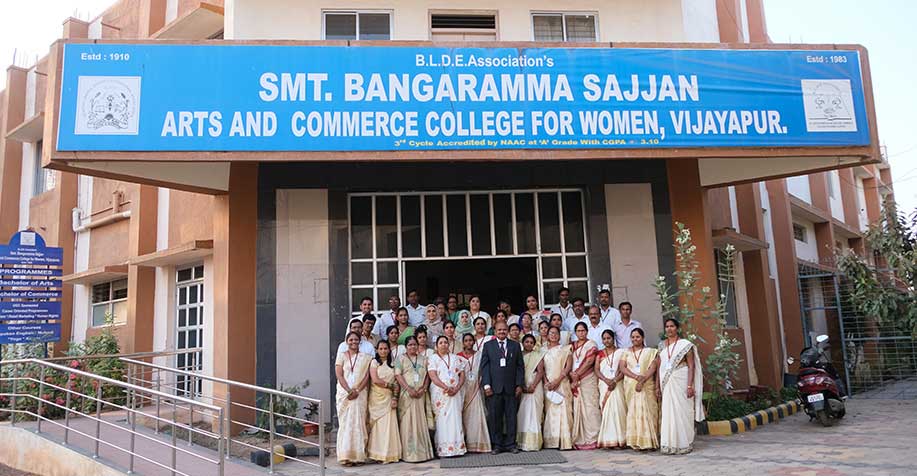 "To awaken the people, it is the women who must be awakened. Once she is on the move, the family moves, the village moves, the nation moves."
- Pt. Jawaharlal Nehru
Education improves the lives of girls and women and leads to better child health, equitable development and enhanced economic growth. Therefore, women's education must be prioritized.
With this vision in mind, BLDEA'S Smt. Bangaramma Sajjan Arts and Commerce College for Women was established in Vijayapura in the year 1983 by Late Shri B M Patil and Shri B. R. Patil Lingadalli. The college was named after Smt Bangaramma in 2013-14 to honour the great philanthropist Smt. Bangaramma Sajjan
In the third cycle of NAAC Reaccreditation, the college was awarded A Grade. It is permanently affiliated to Karnataka State Women's University, Vijayapura. Situated in the heart of the city of Vijayapura, the college has a well-protected campus, which is spread over an area of 6 acres and 20 guntas. The college offers BA, BCom, BCA, BSc. and M.Com Programmes.
The college has excellent infrastructure, which comprises 14 well-equipped classrooms, four laboratories and a well-stocked library. The management has created a favourable environment for research activities. Over the last five years, 118 research papers of the college have been published.
Visit Website